Special 2-Book Discount!
Empowering Online Learning and The World is Open by Curtis J. Bonk. Get a 25% discount with the Curtis J. Bonk Online Learning Set! Please see this flyer for more details.
---
The World Is Open: How Web Technology Is Revolutionizing Education is now in softcover
with a new introduction/prequel ("
Sharing…the Journey
") and ending/postscript ("
An Open Letter to the Learners of this Planet
").
More info at:
Wiley
,
Jossey-Bass
,
Amazon
.
---
The World is Open is now out in Chinese (simplified)
. Buy on
Amazon
or
Dangdang
. See also
Foreword written (in English) for Chinese translation
. Arabic translation out soon as well.
---
Check out the new Italian translations of the
Postscript to World Is Open
, the
Foreword to Word is Open in Chinese Edition
, and the
Prequel to World is Open
.
---
Watch e-learning video primers
---
"For those of you eager to stay current on open education trends, I recommend the new book by Curtis Bonk, The World is Open: How Web Technology is Revolutionizing Technology. I heard Bonk speak last November at the Sloan-C International Conference for Online Learning and he was quite inspiring. Great stuff for any educator with an open mind."
Michelle Pacansky-Brock, Director of Online and Hybrid Support Center at California State University, East Bay
---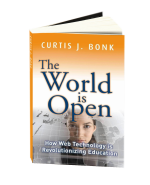 Buy this book!
Read on Kindle!
Cliff Notes
Amazon Reviews
Sign up for our mailing list!
---
U.S. Push for Free Online Courses
by Scott Jaschik, June 29, 2009
---
Read the book review
in Educational Technology Research and Development
---
The
Digital Optimist
talks about The World Is Open in the Spring-Summer issued of EdPath
---
Curt's Recent Blog Postings:
Excerpts
Courtesy of Jossey-Bass an imprint of Wiley Publishing